The A320 Walk-Around
by Eric Bradley & Marc Romero, 14 July 2015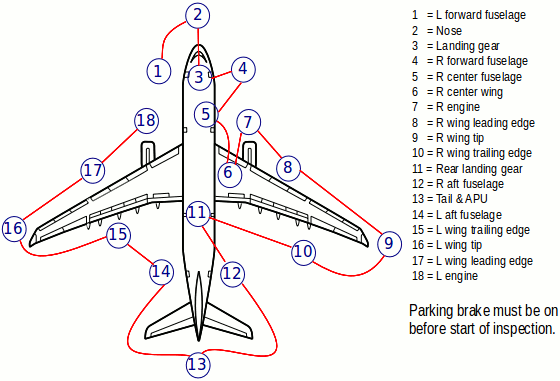 Drawing: Eric Bradley [ccSA]
The purpose of the walk-around is to search for any conditions that could compromise the safety of the flight. It is important to perform this task correctly because the consequences of failure can be very serious.
Never under-estimate the importance of performing a full and adequate external inspection, no matter how pushed for time you are or how much pressure you're under.
Some incidents have occurred due to really obvious things that could have been spotted during the external inspection.
In fact, on occasions, the failure has been at multiple levels. One such incident, for example, occurred on May 24, 2013.
BA762 took off with open fan cowl doors (checkpoint 7-5 on the walkaround). Here is a full PDF report of the incident.
A detailed table of walk-around procedures is as follows:
STEP
ITEM
ACTION
1 = L. Fwd Fuselage
Lights
Condition, check working
AOA Probe
Condition
Static Ports
Condition, check clear
ASI Valve
Condition
Avionics Door (L)
Check closed
2 = Nose
Pitot Probes
Condition
TAT Probes
Condition
Crew O2 Discharge Indicator
Check for

green

Radome & Latches
Condition, latches closed
Static Ports
Condition, check clear
Avionics Door (F)
Check Closed
Ice Detection Probes
Condition
Ground Elec Pwr Door
Check closed
3 = Landing Gear
Taxi Light
Condition
Chocks
Check in place
Wheels & Tires
Check for wear & damage
Superstructure
Condition
Hydraulics & Elec
Condition
Wheel Well
Condition, check clear
Shock Absorber
Condition
Safety Pin
Check Removed
4 = R. Fwd Fuselage
AOA Probes
Condition
TAT Probes
Condition
Pitot Probes
Condition
Static Ports
Condition, check clear
Cargo Ldng OpAc Dr
Check closed
Cargo OpAc Door
Check closed
Lights
Condition, check working
Avionics Doors
Check closed
Av Vent Outlet Valve
Condition
5 = R. Ctr Fuselage
LP Ground Cnx Dr
Check closed
Antennas
Condition
Drain Mast
Condition
Anti-Collision Light
Condition, check working
Pack Air I/O
Check clear
HP Ground Cnx Dr
Check closed
Ground Hyd Cnx B
Check closed
L/G Ground Acc Doors
Check closed
Ground Hyd Cnx Y
Check closed
6 = R. Ctr Wing
Magnetic Fuel Levels
Flush
Fuel Water Drain Valves
Check for leaks
Refuel Panel
Check closed
Landing Lights
Condition, check working
Slats
Condition
7 = R. Engine
Eng Oil Axs Dr
Check closed
MMCD Access Door
Check closed
T-rev Cowl Door
Check closed
Pressure Relief Doors
Check closed
Fan Cowl Door
Check closed
Axs Dr to T-Rev Latches
Check closed
Drain Masts
Condition, no leaks
Eng Inlet & Fan Blades
Check
8 = R. Wing Leading Edge
Refuel Coupling Door
Check closed
Magnetic Fuel Levels
Flush
Fuel Water Drain Valves
Check no leaks
Slats
Condition
9 = R. Wing Tip
Fuel Vent Overpres Disc
Check intact
Wing fence
Condition
Magnetic Fuel Levels
Flush
Fuel Water Drain Valves
Check no leaks
Surge Tank Air Inlet
Check clear
Slats
Condition
Nav Lights
Condition, check working
Antennas (top)
Condition
10 = R. Wing Trailing Edge
Control Surfaces
Condition
Flaps & Fairings
Condition
Static Dischargers
Check
Stat Dischg Eliminators
Check
11 = Rear Landing Gear
Chocks
Check removed
Wheels & Tires
Check for wear & damage
Brakes & Brake Wear Ind
Condition
Superstructure
Condition
Hydraulics & Elec
Condition
Downlock Springs
Check
Safety Pin
Check removed
12 = R. Aft Fuselage
Refuel Elec Ctrl Panel
Check closed
APU Fuel Drain
Condition, no leaks
Ground Hyd Cnx G
Check closed
Antennas
Condition
Drain Mast
Condition
Cargo Ldg OpAxs Dr
Check closed
Cargo OpAxs Door
Check closed
Cargo Door
Check closed
Bluk Door
Check closed
Waste Service Panel
Check closed
Outflow Valve
Condition
13 = Tail & APU
Stabilizer & Elevator
Condition
Fin & Rudder
Condition
Static Dischargers
Check
Lower Surface
Check
Flight Rec Axs Dr
Check closed
APU Access Door
Check closed
APU Air Intake
Condition
APU Exhaust
Check clear
APU Nav Light
Condition, check working
APU Fire Ext Overpres Disc
Check in place, intact
14 = L Aft Fuselage
Water Service Panel
Check closed
15 = L. Wing Trailing Edge
Control Surfaces
Condition
Flaps & Fairings
Condition
Static Dischargers
Check
Stat Dischg Eliminators
Check
16 = L. Wing Tip
Fuel Vent Overpres Disc
Check intact
Wing fence
Condition
Magnetic Fuel Levels
Flush
Fuel Water Drain Valves
Check no leaks
Surge Tank Air Inlet
Check clear
Slats
Condition
Nav Lights
Condition, check working
Antennas (top)
Condition
17 = L. Wing Leading Edge
Refuel Coupling Door
Check closed
Magnetic Fuel Levels
Flush
Fuel Water Drain Valves
Check no leaks
Slats
Condition
18 = L. Engine
Eng Oil Axs Dr
Check closed
MMCD Access Door
Check closed
T-rev Cowl Door
Check closed
Pressure Relief Doors
Check closed
Fan Cowl Door
Check closed
Axs Dr to T-Rev Latches
Check closed
Drain Masts
Condition, no leaks
Eng Inlet & Fan Blades
Check